Welcome to the institutional website of the Faculty of Nursing.
On behalf of the Faculty of Nursing and on my own behalf, I welcome you to the website of our Center.
Through this means, we want to offer you the possibility of knowing the center, the services and resources it offers, the studies given and the people involved in its correts functioning.
We were born in 1991 as a Delegation of Algeciras of the University School of Nursing and Physiotherapy of the University of Cadiz to teach the Diploma in Nursing. In 2004 we became the University School of Nursing of the University of Cadiz.
In the academic year 2009-2010 we began to teach the Bachelor's Degree in Nursing.
With the implementation of the Degree, we not only changed our name from University School to Faculty, but Nursing managed to reach the academic level that really corresponds to it, matching the rest of the degrees and allowing maximum academic and professional development. This Title was accredited by the Andalusian Knowledge Agency on July 19, 2016
If I had to highlight any aspect of the Center, it would be the commitment of its staff to quality services and teaching innovation, as well as having facilities and means that facilitate teaching-learning functions.
Our teaching is supported by Virtual Classrooms in most of the subjects and we have an Advanced Clinical Simulation Classroom to support the clinical learning of our students.
Our Faculty has been and is a pioneer in the different challenges proposed by the University, largely determined by the need to adapt to the European Higher Education Area.
Of great importance in the Degree in Nursing is the practical-clinical training for which we have the participation, according to a collaboration agreement, of all the Centers of the Campo de Gibraltar Health Management Area. In addition to having all the facilities, we have Associate Professors of Health Sciences and the collaboration of their professionals as Clinical Tutors who allow and facilitate quality practical-clinical training.
Practical-clinical training that we complete in other health and social-health centers in the Bay of Algeciras with which we maintain collaboration agreements.
To promote student mobility, the Faculty has Mobility Agreements with National and International Universities that allow part of the studies to be carried out in other Universities and reciprocally we receive students from other Universities to complete their studies in our Faculty.
Finally, we can tell you that we hope that this portal will be a really useful information and communication tool for everyone, so it would be of great value to receive suggestions and initiatives to achieve this goal.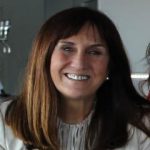 Mª Carmen Paublete Herrera
Decana